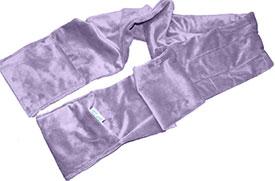 The Warming Scarf is perfect for indoor or outdoor activities.
Designed to wrap comfortably around your neck, the warming scarf has 2 extra deep pockets to keep cell phone and keys accessible, while keeping hands warm and toasty.
The neck and pockets are lined with 12 natural herbs and grains that contour your body to help relieve stress and tension while keeping you warm and comfortable.
The Warming Scarf can be used for hot or cold therapy. Herbal packs make great gifts...this one is made in the USA
• 100% natural herbs and grain
• heats in microwave in minutes
• soft, cozy fabric
• great for active people with muscle stress, tension or pain
• fluted channels with extra herbs & grain for long lasting warmth
• perfect for indoor or outdoor activities
• stylish details make scarf fun to wear
• deep pockets to keep keys & cell phone accessible