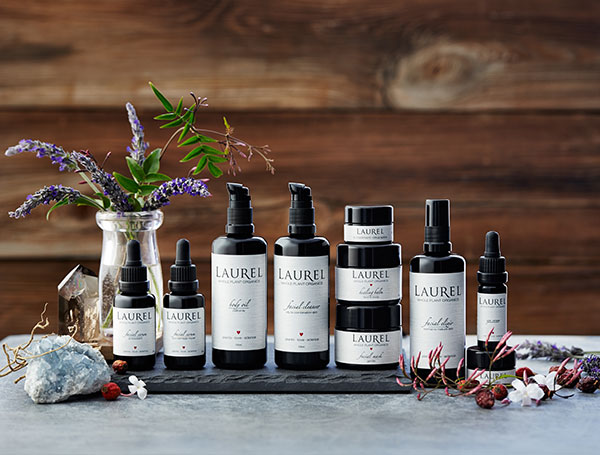 photo courtesy of Laurel Whole Plant Organics
Howdy Skin ravers!
I'm soooooooooo excited today because I get to share my Spotlight Interview with Laurel Shaffer from Laurel Whole Plant Organics.
I have to say, I am truly impressed with Laurel's Whole Plant philosophy. Her line focuses on the whole plant in its entire life process. The emphasis from where a plant was grown, to the love and nurturing it received, journeying from farm to the skin care lab where it becomes the therapeutic botanical blend to the packaging it is preserved and arrives in, all this love for Mother Nature makes me feel truly humbled.
The focus is on the purest plant ingredients without the interference or contamination of chemicals. These days, it's so challenging to find a completely natural facial line that fiercely strives and accomplishes that concept. I often find products marketed as natural, No this, this and that yet still contain a mix of chemicals (my fellow peeps trying to reduce chemical exposures + chemical allergy sufferers, I know you feel my pain!).
Only 2 of Laurel's products (both cleansers) contain emulsifiers and preservatives, as they contain water and oils. All the other products are natural, certified organic and non-synthetic. In addition, Laurel works closely with the farmers whom her raw materials come from. If not grown within 100 miles of her farm, Laurel grows the plants herself.
I really respect what Laurel has done with her company. When you receive and use a product from Laurel, you honestly feel the love and positive energy that went into producing it; you feel the respect + love Laurel has for plants and their therapeutic nature.
Skin ravers, you're in for a real treat as Laurel answers a bunch of our juicy questions!
And don't miss our product reviews from Laurel's line:
Read Our Spotlight Interview With Laurel Shaffer
Have you tried any of the Laurel Whole Plant Organics Line? Let me know which one you heart the most!