When I first came across Kirsten's skin care line and background, I just had to try some of her products and ask her about how Virga Botanicals got started.
Read Rave About Skin's Interview With Kirsten Jacob,
Owner of Virga Botanicals Skin Care Line,
Mom, Chinese herbalist, skin care formulator, acupuncturist, Qi geek!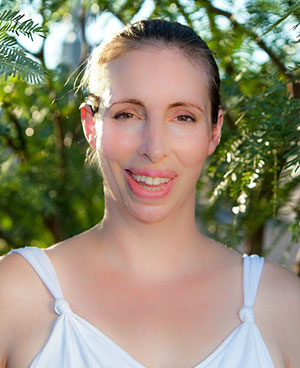 photo credit Mark Voss
RAS: Being an acupuncturist, Chinese herbalist and skin care formulator is a unique combination. How does your background blend into your skin care line?
Kirsten: I've always been a 'nature girl'! Since I was young, I loved herbs, and was fascinated by their long history of medicinal use. I was always an avid reader, and my mom - who had her own holistic bent - had many books on herbs, herbalism, and their use in natural beauty treatments. So, since age 12 or so - when I started experimenting with my appearance and such, as girls do around that age - I've been making my own skincare formulations.
My interest in acupuncture actually came about as an offshoot of my interest in Chinese herbs. I found out that you could not easily study one without the other, they are so intertwined. In China, herbalism is taken very seriously, and regarded as the basis for Chinese medical practice, although in the west, we are more familiar with acupuncture. In any case, when I decided to make a career change from a standard western practice as a pediatric respiratory therapist to a more holistic paradigm, I saw acupuncture as a natural choice, becasue it had helped me with health problems unaddressed by western medicine. I think many acupuncturists come to the field that way.
RAS: What inspired and moved you to creating your skin care line?
Kirsten: As I said, I have always loved herbs and plant-based medicine. And, I have really strong feelings about the importance of inner beauty, and doing the least: least-toxic, least-maintenance, to let that inner beauty show through.
I think so many women do not realize they are beautiful.
I do cosmetic acupuncture too (a kind of 'mini face-lift with needles) and love the opportunity to show women that the glow and loveliness that comes to the face with those treatments is THEIRS - acupuncture does not put it there, nor does some magic skin care; it is in each of us already. I formulate my skincare line to support that same idea - that is why the tagline is "Real is Beautiful". I truly believe that the more real, open, free of self-consciousness and concern you are, the more that real beauty shows. It is in each of us, absolutely!
RAS: What does skin health mean to you?
Kirsten: Hmmm, keep the good stuff in, and the bad stuff out!
My approach is to create products that basically maximize the nourishing, beneficial, supplementing components of skincare, such as the natural antioxidants and humectants in so many plants - get them on and in the skin, then: seal the environmental damage out.
A lot of people don't believe in occluding the skin with anything that 'seals' it by feeling the least bit heavy, feeling pores cannot breathe and that is somehow bad...
As a respiratory therapist, I know that makes little sense: the skin is an organ, it always breathes, just like the other organs in your body. It does that through the blood; which is why good nutrition is so important for skin health, by the way! I feel you can't get too much protection. Balance of pH is also incredibly important. Your skin needs its protective acid mantle, so even with oily skin, stripping it or fighting with it in any way is counterproductive.
RAS: Is there any advice you have for people today in terms of what they can do to promote their own skin health?
Kirsten: You really just do have to love it. Again, it is nourished from the inside, so taking vitamin C, eating well are important.
My favorite: drinking green tea, which is one of the most- studied plant based antioxidants and sun-damage protectors, and is well-shown to be effective, both internally and externally. I drink 6 cups a day, at least! And thats just because I love it... but basically, I use it as a water substitute. Do protect from the sun. Carry an umbrella: go ahead, look like a geek, you will have perfectly protected skin without questionable sunscreen chemicals...
RAS: Are there any skin issues you battle with and would like to share with the readers? (If so, how do you deal with them?)
Kirsten: I have to say, I've been lucky with my skin. I'm not sure if its because I went 'natural' and herbal from the very beginning (I've rarely used commercial cosmetics, and I'm 46 now). If there is one problem I have, it is a tendency toward dryness. I am not afraid of moisturizer, and put it on (over my green tea serum - I use my rose cream) liberally. I also only wash with a creamy pH balanced cleanser. I find the trick is to keep the acid mantle happy!
RAS: What are your 2 must have (skin care) products you can't leave home without?
Kirsten: My green tea serum and my rose cream!
Thank you Kirsten for being in our Spotlight.
To learn more about Kirsten's philosophy and product line, visit Virga Botanicals.