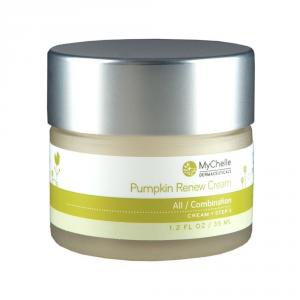 Pumpkin Renew Cream is an elemental nourishing cream for all skin types.
Organic shea butter and pumpkin seed oil balance and nourish the skin without creating an occlusive barrier.
Epidermal growth factor (EGF) assists healing and cellular repair, while spin trap, Tocomin™, and astaxanthan provide advanced antioxidant protection.
Pumpkin is known for many health benefits including some protection for skin:
Antioxidants in pumpkin may help decrease DNA damage and maintain immune function.
Beta-carotene reduces skin damage from the sun and acts as an anti-inflammatory agent.
Tocopherols protect cells by preventing oxidation of unsaturated fatty acids in the cell membrane.
This little jar of magic makes for a nice stocking stuffer.