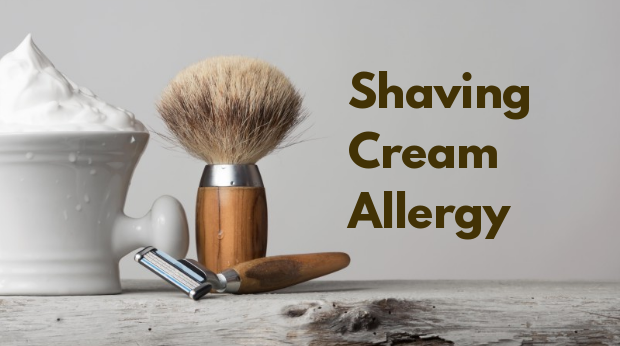 image depositphotos
Can you think of an essential skin care product used while shaving hair (from the skin)? If you said shaving cream you are right!
Howdy skin ravers, today we're looking at a product where not many think of being allergic to, shaving cream.
Shaving cream is a skin care product whose ingredients are aimed at softening and hydrating the skin, the hair and providing glide for a more comfortable and close shave. 
After randomly selecting 15 different shaving cream brands online, we reviewed their ingredients list and noted the following items below. We found 
Carrier oils such as Baobab seed oil, sunflower seed oil, macadamia nut oil, coconut oil, jojoba oil, soybean oil and sesame seed oil
Herbal extracts and Essential oils such as Calendula, Chamomile, Green Tea, Plantago leaf extract, Edelweiss extract, Lavender Oil, Orange Oil, Rosemary Oil, Sandalwood Oil, Eucalyptus Oil and Common Myrtle Oil
Skin conditioning agents such as dimethicone, allantoin, azulene, palmitic acid and stearic acid, myristic acid, cetyl esters, glyceryl oleate
Humectants such as glycerin and sorbitol
Surfactants such as Laureth-23 and Sodium lauryl sulfate
Preservatives such as methylparaben, propylparaben, diazolidinylurea, benzoic acid, DMDM hydantoin, methylchloroisothiazolinone and methylisothiazolinone
Propellants to create foamy lather such as isopentane and isobutane
other ingredients such as water, camphor, menthol, salicylic acid and fragrance
The shortest list of ingredients I found had 8 ingredients, where as the longest list contained over 30 ingredients.
Many of the above common shaving cream ingredients offer skin softening, hydrating, healing and soothing qualities however what is one to do when one becomes allergic or sensitive to one or more shaving cream ingredients? Or if one doesn't know which ingredient is the offending agent?
In the case where the allergic ingredient(s) is known, it is best to avoid coming in contact with that ingredient(s). For example, if one is allergic to fragrance, then it is best to avoid products containing fragrance. As fragrance can contain many botanical oils, it may be wise to avoid products containing botanical oils and extracts. If one knows the allergic agent is a paraben, then it is best to avoid products containing any type of paraben.
In the case where the allergic ingredient(s) is not known, it may be best to discontinue using the currently used product(s) and switch to products using fewer ingredients in it's formulation; adding one product at a time.
(*If you make a purchase using any of the links below, please know, I may make a commission. I am very grateful and appreciate your continued support towards this site.)
Alternative option...
Pharmaceutical Specialties Inc. makes Vanicream shaving cream which has the following 14 ingredients: 
purified water, stearic acid, glycerin, caprylic/capric triglyceride, hydrogenated polydecene, panthenol, PEG-12 dimethicone, 1,2-hexanediol, titanium dioxide, sodium polyacrylate, caprylyl glycol, sodium hydroxide, isopropyl titanium triisostearate, disodium EDTA. 
The product description states "A non-lathering formula specially developed for those who have easily irritated, sensitive skin. It provides a smooth, close, comfortable shave for both men and women. Fragrance-free."
I really like this product because it is free from many chemical irritants such as dyes, fragrance, masking fragrance, lanolin, parabens, formaldehyde, formaldehyde releasers, other preservatives and is alcohol free. It is an option as long as you are not sensitive to any of it's ingredients.
Many many years ago after patch testing a patient to all of his facial skin care products, we discovered a shaving cream allergy and changed to Vanicream shaving cream. 
If you are unable to find a replacement shaving cream, or continue to experience skin reactions after shaving, it may be time to consult with a dermatologist. He or she can help figure out what's happening, possibly skin patch test you or discuss other hair removal options. 
Have you ever experienced a shaving cream allergy?
*As always, prior to product use, it may be wise to patch test yourself to a small area of skin with the product one or more times.
**The ingredients listed are accurate at the time of publishing. Keep in mind manufacturers can and do make changes to their products at any time and while we do our best to provide the most accurate information on this site, it is the responsibility of the consumer to research fully the ingredients of products he or she intends to use.