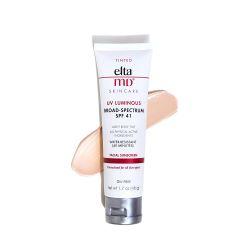 (deals may contain affiliate links. raveaboutskin is a participant of the amazon associates program. as a participant, we earn from qualifying purchases at no additional cost to you. prices are accurate at time of publishing).
For normal, dry, oily, combination skin
Get a shade more luminous with EltaMDs newest lightly tinted sunscreen that brings skin care and essential sun care together.
EltaMD UV Luminous Broad-Spectrum SPF 41 uses antioxidants such as linoleic acid and vitamin E to protect your skin from free radicals and diminish UV-related signs of aging.
It's light rosy tint and semi-matte finish blends into the skin seamlessly and blurs imperfections.
EltaMD UV Luminous Broad-Spectrum SPF 41 sunscreen is ideal for those seeking non-greasy UV protection with all physical active ingredients.
Free from paraben, fragrance and dye.