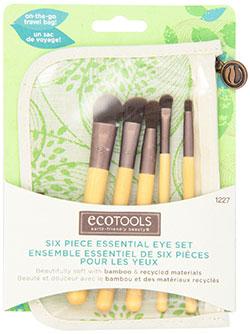 EXTRA 20% OFF LIMITED TIME ONLY AMAZON COUPON
Eye makeup addicts, this ones for you..the Eco Tools 6 piece essential eye brush kit contains:
Large eye brush to blend a base eyeshadow over the entire eyelid
The angled crease brush adds definition to the outer crease of your eye, while the petite eye shading makeup brush is perfect for an accent color.
Use the highlighting makeup brush to accentuate the brow bone and inner corners of the eye.
Complete the look with the smudge brush by smudging the shadow and liner along the lash line for a smoky finish.
Synthetic bristles are cruelty free and incredibly soft.
EcoTools remains a favorite of celebrities, beauty editors and women around the world. Products use natural materials, reusable pouches, post-consumer recycled paper and plastic, and recyclable packaging. The eco pouch is phthalate-free and PVC-free.
Who doesn't love a cute brush set!?