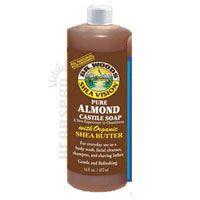 Shea Vision provides the wonderful addition of Organic Shea Butter to Dr. Woods Castile and Black Castile Soaps.
Shea Butter is nature's hidden secret for beautiful skin. Once a year in the African Savannah, the Mangifolia tree gives up its fruit known as the karite or the shea nut. After being hand picked, the shea nuts are boiled to extract their treasure, Shea Butter.
Shea Butter is an ultra moisturizer that penetrates and revitalizes skin. Shea Butter naturally contains vitamins A and E, essential elements that give skin the balance it needs for improved elasticity and to combat dryness.
Sizes – 8 oz., 16 oz. and 32 oz.
Scents: Peppermint, Almond, Tea Tree, Lavender and Baby Mild
Shea butter and vitamin E are nourishing anti- oxidants to promote natural skin repair.
Thicker formula is more user friendly.
Original price $14.99
Sale price $10.04