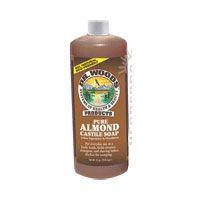 Dr Woods Castile Soaps are mild, moisturizing and versatile for everyday use as a body wash, facial cleanser, shampoo, and bath soak.
Originating from Castile, Spain, soaps are vegetable based, containing no animal fat. They are natural and biodegradable, perfect for consumers who care about the environment.
Castile Soap contains olive oil, giving it natural healing properties and the ability to attract moisture and hold it close to the skin to form a breathable layer that prevents moisture loss.
Dr. Woods Castile Soap does not contain any harsh detergents that can strip away skin's natural moisture. The Vitamin E
rich lather leaves skin feeling naturally soft and clean.
Dr. Woods is eco-friendly and ideal for guilt free camping and laundry.
Five fragrances – Peppermint, Almond, Tea Tree, Lavender and Baby Mild.
Three sizes – 8 oz., 16 oz. and 32 oz.
Original price $12.99
Great price $8.85