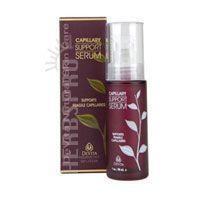 DeVita Natural Skin Care Capillary Support Serum uses ingredients such as evening primrose, Canadian willowherb, Arnica and green tea extract to help support skin with redness due to fragile vessels and capillaries. It promotes healthy cellular regeneration which helps reduce scarring, swelling, and redness. 
Ingredients: Oenothera biennis (evening primrose) oil, Epilobium angustifolium (Canadian willowherb) extract, Glycolic acid (from sugarcane), Lactic acid (from molasses), Aloe barbadensis (aloe vera) gel*, Azelaic acid, Glycosaminoglycans, Centella asiatica (gotu kola) extract*, Arnica (montana flower) extract, Glycyrrhiza glabra (licorice) root extract, Allantoin, Camellia sinensis (Japanese green tea) leaf extract, Hydrolyzed wheat protein, Hyaluronic Acid (vegan source) and Hydroxymethylcellulose (from fibrous plants). 
The DeVita product line is vegan and does not use animal based ingredients.
Originally priced $36.95
On sale now for $25.36