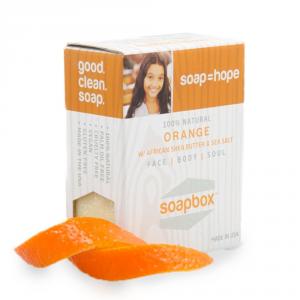 SoapBox Soaps is dedicated to helping people around the world beat pandemic disease.
With every bar of USDA organic soap that we sell, we donate a second bar to people in need, anywhere in the world.
Each 4-ounce bar is completely free of gluten, palm oil, paraben, petrochemicals, phthalate and sulfate.
These soaps are also PETA-certified vegan, cruelty free and packaged with 100-percent recyclable fibers to make a positive impact on the environment.
Made with Olive Oil, Coconut Oil, Soybean Oil, Corn Oil, Organic Shea Butter, Sea Salt, and All-Natural Orange Essential Oil, this product is a Rave favorite!
Think perfect stocking stuffer! (plus added bonus of supporting a cause)