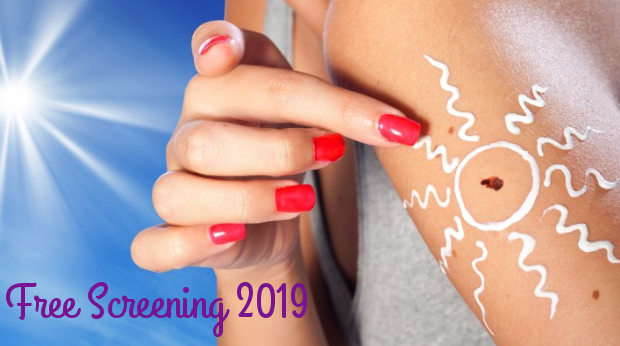 image depositphotos
Happy May skin ravers!
Hope you are enjoying the start of beautiful spring time soon to be summer weather.
As May is skin cancer awareness month, we have to remember to make time for that important skin cancer screening.
Part of the American Academy of Dermatology's Spotme skin cancer screening program, thousands of physicians and their medical staff members volunteer their time to provide free skin cancer screenings nationwide.
Thank you to those who care and put in their time and energy to helping reduce the incidence of skin cancer and skin cancer mortality.
Please check the AAD website for screenings in your area and remember if there isn't a Spotme provider in your area, you can always contact your local hospital or group provider and inquire if they offer any free skin cancer screenings.
Happy May everyone, and remember to get that skin checked.
Free skin cancer screenings in the NY area
May 20, 2019
Middletown, NY, Orange Regional Medical Center, contact Jessica Gerlach, 1-888-321-6762, Screening is located in the Outpatient building, Screening hours: 8:00 AM - 4:00 PM
May 22, 2019
New York, NY, Mount Sinai West, contact Laiza Alarcon, 1-212-523-7086, Screening is located at: 2109 Broadway, 2nd Floor, Screening hours: 5:00 PM - 7:00 PM, Walk-Ins Welcomed
May 30, 2019
New York, NY, Memorial Sloan Kettering Cancer Center, contact Amanda Badal, 1-646-888-6010, Appointment is Required, Screening hours: 4:00 PM - 7:00 PM
May 31, 2019
Vestal, NY, Lourdes Dermatology, contact Nicholas McNeal, 1-607-251-2100, Appointment is Required, Screening hours: 9:00 AM - 12:00 PM
June 1, 2019
Rochester, NY, Constantino's Market, inquire at 1-585-275-0193, Screening is located at: 40 Celebration Dr. 
Screening hours: 9:00 AM - 12:00 PM, Walk-Ins Welcomed
June 13, 2019
Astoria, NY, Astoria Dermatology, inquire at 1-718-728-9822, Screening is located at: 25-83 31st Street, 2nd Floor, Screening hours: 9:00 AM - 1:00 PM, Walk-Ins Welcomed
June 14, 2019
Long Beach, NY, Long Beach Boardwalk at Riverside Blvd., Screening hours: 1:00 PM - 3:45 PM, Walk-Ins Welcomed
June 15, 2019
Fort Salonga, NY, Crab Meadow Beach, contact Gail Probst, 1-631-351-2568, Please wear bathing suit. 
Screening hours: 10:00 AM - 12:00 PM, Walk-Ins Welcomed

June 19, 2019
Carmel, NY, Putnam Hospital Center, inquire at 1-845-279-5711, Appointment is Required, Screening hours: 4:30 PM - 8:00 PM
July 13, 2019
Fort Salonga, NY, Crab Meadow Beach, contact Gail Probst, 1-631-351-2568, Please wear bathing suit, Screening hours:10:00 AM - 12:00 PM, Walk-Ins Welcomed
August 1, 2019
Staten Island, NY, Infinity Dermatology, contact Amy Vitale, 718- 483-7330, Screening is located at: 148 New Dorp Lane, 
Screening hours: 9:00 AM - 5:00 PM, Walk-Ins Welcomed