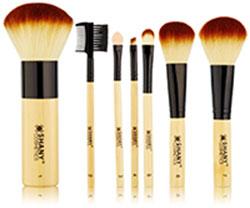 Made from all vegan materials, these high-quality brushes allow anyone to be effortlessly eco-conscious without sacrificing a flawless face.
This special brush set was designed for the special girls with sensitive skin.
This unique brush set is made with bamboo microfibers which never hold any bacteria that will cause any future breakouts and includes the essential brushes.1-Buffer brush, 2-Eyelash/Eyebrow spoolie brush, 3-Spong Shadow Brush, 4-Angled Liner Brush, 5-Medium Concealer Brush, 6-Blush Brush, 7-Powder Brush.