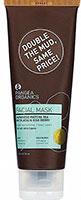 Green and white clays work together in this mask to restore, balance, cleanse and detoxify.
four sea vegetables re-mineralize, hydrate and oxygenate; sugarcane serves to exfoliate, unclog pores and support the skin's natural production of elastin and collagen; acai and goji berry extracts lend their extraordinary super-powers as antioxidants, functioning as revitalizing super-foods; jojoba and sunflower seed oils nourish and moisturize; three teas are employed in both whole leaf and extract forms to ensure maximum potency for antioxidant, restorative and energizing effects; and a harmonious blend of extremely concentrated herbal extracts and essential oils further nurture the skin and senses. 
What more can one ask for in a mask?