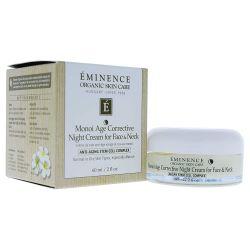 (deals may contain affiliate links. raveaboutskin is a participant of the amazon associates program. as a participant we earn from qualifying purchases at no additional cost to you. prices are accurate at time of publishing).
Some key ingredients in this moisturizer and what they do:
Argan Stem Cell Complex: contains Argan Plant Stem Cells and Nutmeg Seed, rich in antioxidants, essential fatty acids, polyphenols; helps visibly firm and tighten to renew the look of healthy skin
Natural Retinol Alternative: derived from chicory root oligosaccharides and tara tree gum to help visibly rejuvenate your look with smoother and firmer-looking skin
Argan Oil: contains polyphenols, tocopherols, squalene, Vitamin E to nourish dry skin and promote skin hydration by restoring moisture 
Monoi: fragrant Tahitian oil derived from soaking the petals of Tahitian gardenias in oil; hydrates and helps improve the appearance of skin's surface resulting in firmer-looking skin
Evening Primrose Oil: rich in omega 6 essential fatty acids. Soothes and restores dry skin
Shea Butter: high in triglycerides; excellent emollient which replenishes the skin's moisture barrier and repairs dry skin
Eminence products are free from Paraben, Phthalates, Sodium Lauryl Sulfate, Propylene Glycol and do not test their products on animals.