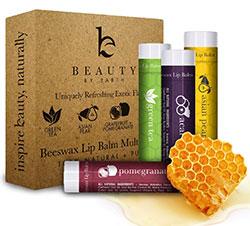 This four pack of lip balm starts with the same ingredients: beeswax, sunflower seed oil, coconut oil, castor seed oil, lanolin, vitamin E, aloe vera, shea butter, and cocoa seed butter.
Each tube of balm also leaves out the same junk: there's no soy, no corn, no petroleum, and no cheap fillers.
You're left with chapstick that goes on smooth and leaves your lips feeling supple and moisturized.
Exotic antioxidant flavors include: Grapefruit Pomegranate, Acai & Goji Berry, Asian Pear and Green Tea
A wonderful gift for the lip balm obsessed, chemicallly sensitive or passionate about avoiding toxic chemicals in skin care.
Note: this product contains beeswax and lanolin, do not use if sensitive to either of these ingredients.