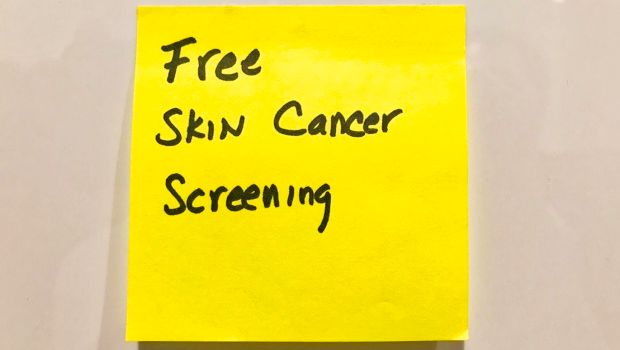 Hello skin ravers. Happy Monday! I hope you had a great weekend.
Have you had a chance to schedule your free skin cancer screening?
Here are some (remaining) dates for free skin cancer screenings for the NY, NJ, CT areas. Remember skin cancer screenings are just as important as an annual check-up so be sure to add it to your calendar.
Please note most of the sessions require calling to make an appointment.
For those outside the NY tri-state area, please use the search function on the American Academy of Dermatology website to search your state and city. https://www.aad.org/public/spot-skin-cancer/programs/screenings/find-a-screening
If you don't see a listing near you, try contacting your local university based medical center's dermatology department and inquire if they offer free skin cancer screenings. Many do offer screenings for skin cancer awareness month.
FREE Skin Cancer Screenings 
May 6, 2018, Westport Weston Health District Center, Westport, CT, Screening hours: 9am-11:30am, please call to make appointment, walk-ins welcome. telephone (203) 227-9571
May 7, 2018, Hale YMCA Youth and Family Center, Putnam, CT, Screening hours: 8:00 AM - 12:00 PM, please call Amanda Kelly to make appointment walk ins welcome. telephone (860) 315-9622
May 8, 2018, White Plains Hospital, White Plains, NY, Screening hours: 5:30pm- 7:30pm. call and speak to Karen Cousin. Register online at: wphospital.org/derm telephone (914) 849-7160
May 10, 2018, Mount Sinai School of Medicine, New York, NY, Screening hours: 3:00 PM - 6:00 PM. Screening is located at: 234 E. 85th St., 5th Floor, Walk-Ins Welcomed. telephone 212 -731-3311
May 10, 2018, Dr. Linda Susan Marcus, Wyckoff, NJ, Screening hours: 9:00 AM - 5:00 PM, appointment required, please call Robert Carlin for more information. telephone 201 -891-6443
May 16, 2018, Mount Sinai Downtown Union Square, New York, NY, Screening hours: 5:00 PM - 7:00 PM. Appointment Required telephone 212 -844-6749
May 19, 2018, Dr. Ellen Gendler, New York, NY, Screening hours: 9-1pm, appointment required. telephone (212) 288-8222
May 22, 2018, Monmouth Medical Center, Lakewood, NJ, Screening hours: 5:30 PM - 7:30 PM, Appointment required. Contact Kelly Anne Deleon telephone 732-597-6075
May 22-23, 2018, Praxair Cancer Center, Danbury, CT, Screening hours: 6pm-8pm, Registration closes at 7:45 PM, Walk-Ins Welcomed. telephone 203 -739-7898
May 23, 2018, Pomperaug Health Disrict, Southbury, CT, Screening hours: 1:30 PM - 4:30 PM, please call Mona for appointment. telephone (203) 264-9616
May 24 and May 31, 2018, Dermatology & Skin Surgery Center of Princeton, Plainsboro, NJ, Screening hours: 2:00 PM - 4:00 PM, Appointment required. Contact Dr. Ryan Johnson telephone 609-799-6222
May 24, 2018, Memorial Sloan Kettering Cancer Center, New York, NY, Screening hours: 4:00 PM - 7:00 PM, Appointment Required. Contact Amanda Badal for more information. telephone 646 -888-6010
May 24, 2018, Mount Sinai, St. Luke's, New York, NY, Screening hours: 5:00 PM - 7:00 PM, Walk-Ins Welcomed. Screening is located at: 1090 Amsterdam Ave., Suite 11D (11th Floor), Contact Laiza Alarcon, telephone 212-523-7782
May 31, 2018, Butler Health Department, Butler, NJ, Screening hours: 6:00 PM - 8:00 PM, Appointment required. Contact Janet Hess telephone 973-838-7200
June 3, 2018, Montefiore-Einstein Center for Cancer Care, Bronx, NY, Screening hours: 9:00 AM - 2:00 PM Walk-Ins Welcomed, Appointment required. Contact Dr. Beth McLellan telephone 718-862-8840
June 7, 2018, Florham Park Recreation Center, Florham Park, NJ, Screening hours: 6:00 PM - 8:00 PM, Walk-Ins Welcomed. Screening is located at: 111 Ridgedale Ave., contact Jean Vrablik, telephone 973 -835-5700
June 13, 2018, Putnam Hospital Center, Carmel, NY, Screening hours: 4:30 PM - 8:00 PM Appointment required. Contact Sarena Chisick telephone 845-279-5711
June 16, 2018, RWJ Somerset Family Practice, Somerville, NJ, Screening hours: 9:00 AM - 11:00 AM Appointment Required. telephone 908-685-2814
June 19, 2018, Phelps Hospital, Tarrytown, NY, Screening hours: 8:30 AM - 4:00 PM Appointment required. Screening will be held in Mobile Medical Unit outside 777 entrance. Contact Amy Ferraro telephone 914-366-3470
June 28, 2018, Pequannock Senior House, Pompton Plains, NJ, Screening hours: 6:00 PM - 8:00 PM Walk-Ins Welcomed, Screening is located at: 530 Newark-Pompton Turnpike, Contact Jean Vrablik, telephone 973 -835-5700
July 10, 2018, StonyBrook Swim Club, Hillsdale, NJ, Screening hours: 2:00 PM - 5:00 PM, Appointment Required, Walk-Ins Welcomed, Contact Jennifer Hausmann telephone 201-666-4800
August 4, 2018, Amherst Health Fair, Amherst, NY, Screening hours: 9:00 AM - 12:00 PM  Appointment required. Walk-Ins Welcomed. Contact Christi Berardi telephone 716-630-1193